Resaca Confederate Cemetery
---
Georgia's First Confederate Cemetery
The memory of a Georgia woman, Mary Jane Green, who with her own hands gathered and interred the bones and bodies of the Confederate dead left lying on the Resaca Battlefield, should always be sacred to us. The sight that greeted the Green family when they returned to their plantation after the battle was almost more than they could bear. Around the house on all sides were scattered graves of Confederates who had been buried where they fell. The Green daughters conceived the idea of collecting all the bodies and re-interring them in a plot of land to be known as a Confederate cemetery. The one great drawback, however, was that they had no money. In the summer of 1866, Mary began writing to her friends around the state, begging them to try and raise money for the cemetery. Although poverty was rampant in the South, the citizenry responded by giving what they could, be it a nickel, a dime, a quarter, or a dollar. Col. Green gave his daughters 2.5 acres of land with rustic bridges spanning the stream through the grounds for their cemetery.1
The account of the first Memorial Day, October 25, 1866, written by Mary Green: "The day selected for the dedication...was bright and beautiful, one of those charming days of our Indian summers where no sound was heard save the fluttering of falling leaves - a suitable accompaniment to our sad thoughts, as we stood in the 'bivouac of the dead.'" This cemetery and one at Winchester, Virginia, were consecrated and dedicated on the same day, each sponsoring group thinking theirs was the first Confederate Cemetery in the nation.2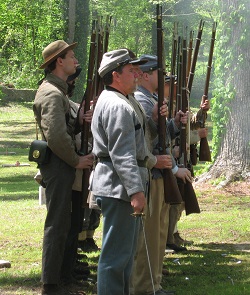 The original cast-iron fence, long since fallen down, was replaced with a stone wall and entranceway by the Atlanta Chapter of the United Daughters of the Confederacy.
Nowadays, memorial services are held at the cemetery twice a year, one in April to coincide with Confederate Memorial Day, sponsored by the local chapters of the Sons of Confederate Veterans and the United Daughters of the Confederacy, and the other in May during the annual Battle of Resaca Reenactment. In addition to speakers, special music, and the laying of a wreath, Confederate reenactors fire honor volleys in memory of the brave men buried in the cemetery. The services always conclude with the somber strains of Taps, which was written during the Civil War in 1862.
In 2001, the Gen. Stand Watie Camp #915 of the Sons of Confederate Veterans put up an interpretive display just outside of the cemetery gate. The display includes, among other things, a history of the cemetery, grave locations, and a picture of Mary Green.
The peaceful surroundings of the cemetery attract many visitors each year. Many have signed the cemetery guestbook, including such dignitaries as Vice President Al Gore.
Pres. Abraham Lincoln may have summed it up best in a speech he gave in November of 1863 at the cemetery dedication at Gettysburg when he said, "But, in a larger sense, we cannot dedicate - we cannot consecrate - we cannot hallow this ground. The brave men, living and dead, who struggled here, have consecrated it, far above our poor power to add or detract."
1,2 Selected text in this article was taken from the Resaca Cemetery interpretive display.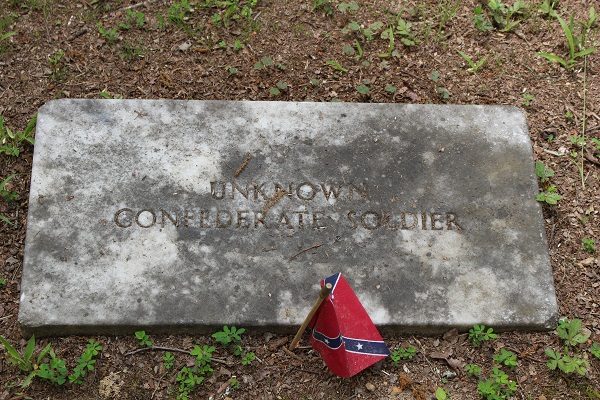 Georgia Division
Reenactors Assoc.